Contact: lynn@horsephotos.ca
or
Box 371, Lakefield, ON, K0L 2H0
Canada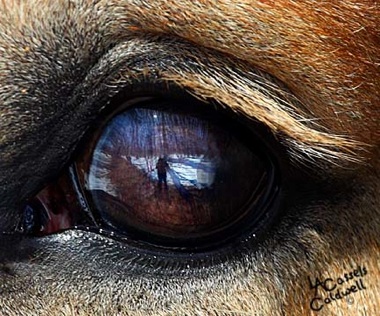 Lynn Cassels-Caldwell is a full time professional digital photographer, specializing in horses. She has extensive training in fine art, completing studies in photography, painting and sculpture in the Creative Arts program at Sir Sandford Fleming College. She has worked in art portraiture, graphic design and photography since the early 1980s. Lynn has won numerous awards and her work is regularly published on the regional, national and international levels.
She enjoys working with all light and heavy horse breeds and disciplines, and can be found providing photography services at major shows such as the Canadian National Exhibition, the Royal Agricultural Winter Fair, Calgary Stampede, as well as many World breed championships, high end auctions and private farm shoots.
She also produces advertising layouts and catalogues for the horse industry.
Her work is characterized by capturing the natural charm of the horse. Lynn has owned, trained and shown her own horses for over 25 years.
Lynn is also an accomplished bead & jewelry artist and designer, and she has now added model horse painting to her skill set. She has successfully competed at the National level with her customized models and artist resin pieces. Her studio web site is www.snowdrift-studio.com

Contact her at: lynn@horsephotos.ca
or
Box 371, Lakefield, ON, K0L 2H0
Canada