Lynn offers many skills as a creative personality working in the horse industry. A longtime horse owner herself, her niche is creative equine expression. Many people know her primarily through her show photography, and advertising design. She has covered major horse shows for many years. Her photography skills also extend to individual horse owners, producing top quality images, and now videos for promotion, sales, advertising, & pleasure.
Invite her to your farm and you can help her to capture your horse's natural charms! Farm shoot images can sometimes lead to magazine covers and other marketing opportunities. She is very honoured to be trusted with exceptional animals, and international level championship events. Plus, she is available to shoot assignments for publications and general stock photography.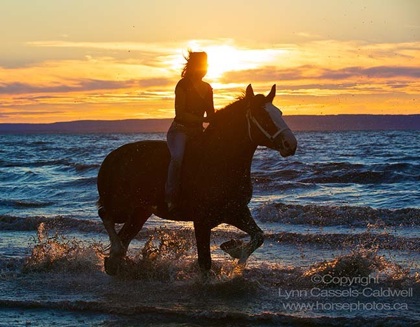 Lynn uses only professional level digital cameras, lenses, computer equipment, & software, and keeps a close eye on the latest photography & software trends. Digital photography is still very much a cutting edge technology. She insists on proper processing as essential to creating professional images.
The world of Photoshop became an additional artistic tool for Lynn when she switched to digital imaging. She now has over 15 years of pro experience, producing top quality work for countless publications. She says,"Photoshop offers an endlessly flexible exploration for learning new art techniques. Each advertising design layout is inspired by the horses themselves, with the artwork, colour and composition designed to let their personality and peak of excellence shine." As a horse person herself, Lynn's vision for each and every horse reflects her sharp eye for balance and beauty.
She has extended her long established artistic skills and fine art training, in oil painting, pastels, & drawing, to the computer, producing appealing advertising layouts, brochures, books, slideshows, Youtube videos, business cards, notepads, photo collages, special effects, horse sale catalogues, digital paintings and even entire marketing campaigns.
Lynn comes from decades of film shooting, and despite her computer skills, film has already trained her to get the image right, in the camera, rather than "fixing" it in the computer. Its all about being very attuned to the individual rhythms of a horse, and being perfectly ready at the fleeting moment when peak beauty is expressed. This involves intense concentration, experience, endless patience and the precision that comes with years of working at her profession.
"Luck is what happens when preparation meets opportunity." -- Seneca
She will not change any horse's natural conformation or artificially "enhance" its movement.
If you want your job done right, just ask Lynn!